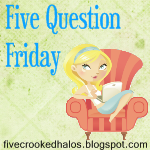 1.
What is your favorite thing about summertime?
2. What is your ideal retirement location (if money didn't matter)?
I need to be about 30 feet from the ocean, have grass and trees every where. And not by a lot of people.
3. Do you live in the same town you grew up in?
Nope. Grew up in San Leandro, moved to Boring, moved to Ocotillo, moved to Estacada, moved to Orlando, moved to Woodland, and now in Scottsdale.
4. What nervous habit did you have as a child that you kicked to the curb before becoming an adult?
5.
What is the most embarrassing thing that happened to you while on the job?
Split my pants a few times. Fell a lot. But now I'm a SAHM so there are a lot of embarassing things; like going to the store with puke and poop all over myself.
My fauk you Friday:
I hate Woodland drivers

I hate stupid childish adults

Planning a birthday party should not be this hard

LOATHES getting up before 6 am everyday with my child